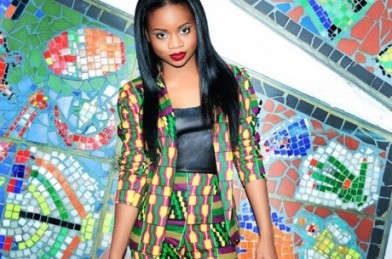 YOUTH charity vInspired has added two more names to perform alongside headline act Professor Green at vInspired Live. The London rapper will be joined by grime artist and producer Skepta and singer A*M*E at London's Roundhouse on Saturday 6th July.
vInspired Live is a celebration of the positive power of Britain's youth and brings to a close the charity's 'Change Something' campaign; an initiative which called upon young Brits to shout about a cause they hold close to their hearts and ask what they would change in one day.
Hosted by presenters Rick Edwards and Gemma Cairney, the inaugural vInspired Live will mix amazing musical performances with inspirational speakers and debates about subjects that concern and affect the young people of today.
Skepta – the stage name of Joseph Junior Adenuga – is a pioneer of the grime genre and member of the legendary urban collective Boy Better Know and a familiar face on the British music scene. His lengthy career has seen him collaborate with P. Diddy and secure a number of top 20 singles.
Skepta said: "It's an absolute honour to be performing at vInspired Live. It is a fantastic initiative and really shows British kids that we care about what they think."
"It's great to see a charity (vInspired) encourage kids to come together, in a positive way, and shout about a cause that's so close to their heart – they've some of the brightest brains and, one day, they're going to be responsible for the way we run our country. "
A*M*E achieved the ultimate nod of approval from the British public earlier this year, when she secured a no.1 hit with single 'Need U (100%)' in April 2013 and a place on the BBC's coveted 'Sound of 2013 poll'.
Sierra Leona-born A*M*E aka Amy Kabba said: "Growing up in London you're always aware of issues that are affecting young people today – youth homelessness and knife crime to name just a couple and that's why I'm supporting vInspired Live."
"As young people, I think we need to stand up for causes we're passionate about and make a change to the world that we all live in."
YouTube teen sensations Jack & Finn Harries and Olympic gymnast Kristian Thomas have been added to the speakers line-up, joining Brooke Kinsella and Levi Roots.
Tickets to vInspired Live are free to all young people aged between 16 and 25. To be in with a chance of winning tickets to this summer's must-attend gig visit, www.vinspiredlive.com