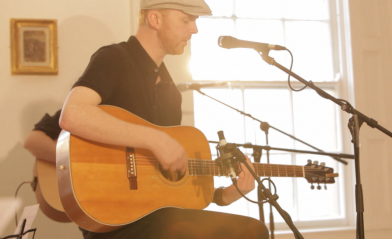 Miles Graham is an all round musician with a talent rarely found. With a warm, magnetic voice that compares to none and a songwriting talent possessed of something of the quality of a younger Van Morrison, what sets Miles apart is that he marries this with the commercial appeal of James Morrison and Ray LaMontagne.
His songs are real and authentic, bringing to mind Bono's idea about "eternal melodies": 'You can't imagine that melody not existing'. Miles Graham's songs are like that.
The debut release from the talented Irishman, All So Innocent, perfectly showcases his songwriting talent. Whilst the introduction is reminiscent of Paolo Nutini, Graham's vocals soon transfer the song into the soul-pop realms of James Morrison, lifted by syncopated piano and soaring strings that make this an irresistible laid-back summer track.
After being born into a large family in Dublin, Miles grew up writing music and when he moved to County Sligo as a young adult he found his artistic home. Today, Graham remains based in Sligo, nestling in the landscape that inspired and nourished the genius of Yeats, a region inexorably on the rise to take its rightful place as Ireland's capital of music and creativity.
Miles came to the attention of the renowned producer Richard Causon (Tom Jones, Rufus Wainright, Ryan Adams) and nowadays spends a lot of time in London co-writing, recording and honing his craft. After dedicating recent years to perfecting his musical signature, Miles is preparing to release 'All So Innocent', plugging a gap in a currently bereft genre.
All So Innocent will be released on 24th June 2013, watch the video below: