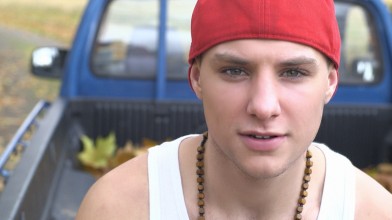 At only 19 years old singer and rapper Cameron Whiley has been writing songs since he was 12 and new single 'Reh Reh Reh' will be his first commercial release via Mission Recordings in June 2013. Ahead of this single release, Cameron is offering fans a free download of his track 'Camera' via the 'Pay with a Tweet' app.
The Free download of 'Camera' featuring Calvin Mclean available now via Twitter and Facebook HERE and be available until 30th June and you can listen to the track before you download it here.
'Camera' is a social comment on how some celebrities and musicians have used the press and paparazzi to get big, but once they've made it they don't want anything to do with them.
Cameron Whiley, originally from Nottingham, has been causing a stir in 2013 with key youth, pop and celebrity press covering him such as Flavour Mag, Star Magazine, Bliss Magazine, Yahoo omg!, DropOut UK and Teen NOW.
The video for his new single 'Reh Reh Reh', which features fancy dress clad dancers (from The BRIT School no less), coo-ing grannies and a cameo from Eastenders' very own Nasty Nick has already received over 150k views on YouTube.
Watch it here:

'Reh Reh Reh' will be available on iTunes from 16th June and all other retailers from 30th June. Pre-order the single on iTunes here
Review of  'Reh Reh Reh' coming soon!