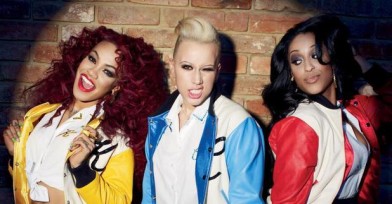 "Oh my dayz!" How did we get here? Brash, mega-crazily styled B-girls singing regular doo-wop? Are these girls as confused as I am?
Although they've only been around for a couple of years, Stooshe's history and discography is already nearly as complex as that of Atomic Kitten and Sugababes combined. Granted, the group still consists of the same three members – Alexandra Buggs, Karis Anderson and Courtney Rumbold – but musically and lyrically speaking, everything else has been in constant flux from the outset. And I'm not entirely convinced by what seems to be the current upshot of it all.
Bear with me while I give you a brief rewind of the creative trials and tribulations from the Book of Stooshe. (FYI: The name is an amalgamation of "stoosh" – urban slang meaning "street posh", "stuck up/pretentious", as well as "to stash away" or "really stoned" – and "she" to indicate girl power.) Following their formation in 2010, the girl group set to work developing their sound and image with tracks written/produced by Jo Perry and Future Cut. First up was promo track 'F**k Me' feat. rapper Suave Debonair, a raucous call for men to stop dawdling and just hurry up and f**k; then 'Hot Stepper', a tweaked and ad-libbed cover of Ini Kamoze's '94 hit; and finally 'Betty Woz Gone', an epic spoof story about the downward spiral of a London estate skank. Collectively these songs and Stooshe's B-girl look appeared to herald the arrival of a funky, fresh, rude and spunky 21st century "Landan" update of '80s and '90s female hip-hop/R&B acts such as Salt-N-Pepa, Neneh Cherry and TLC.
And then the winds of change began to set in. Stooshe's official debut single was a rerecorded and toned down re-hash of 'F**k Me', now called 'Love Me' and feat. the more bankable Travie McCoy from Gym Class Heroes on rap duties. While the PG-dampening paid off economically, bagging the girls a UK #5 hit, it reduced some of the street-cred devil-may-care sass they had originally possessed. Their second single 'Black Heart' placed even higher in the UK charts at #3, but was a complete musical U-turn: a '60s Motown melodramatic ballad pastiche about a cheating lover. It was well-executed and vocally skilled with a memorable chorus, but surprisingly muted and tame compared to their earlier work.
Someone then had the on-paper clever idea of combining these two musical styles for Stooshe's third single, a cover of TLC's '90s R&B hit 'Waterfalls'. It pointed to the girls' street roots forebears and simultaneously was a more reflective, soulful number. It was probably intended to make everyone happy, but unfortunately appeared to make no one so. The girls reportedly didn't like the track themselves and as the last single before a planned first album launch, peaked at a very disappointing #21. The album was subsequently put on hold in late 2012 and the group went back to the studio.
Which is how we finally arrive at the present brand new single 'Slip'. The song, about not letting love slip away, is a return to the territory of 'Black Heart', but now with a sound somewhere between doo-wop and '60s bubblegum pop, think The Chantels and The Archies. Typical of the genre, it is built around double entendre-laden vocal harmony ("Maybe ya swimming on the other side, yeah / It's hard to believe how you could ever get enough of me") with a simple melody, backed by base, organ, and tambourine-accented beat. It's solidly accomplished but there isn't much to get one's teeth into.
So why this direction now, girls? Stooshe still look and act as fresh and edgy as Nicki Minaj, but with 'Slip' tending towards the cheerful blandness of the Spice Girls' 'Stop' or S Club Seven's 'Reach', I sincerely hope we'll find more range on there upcoming album 'London With the Lights On'. "Why did you let it slip?"
What do you think? Watch Stooshe – Slip (Official Video) below: