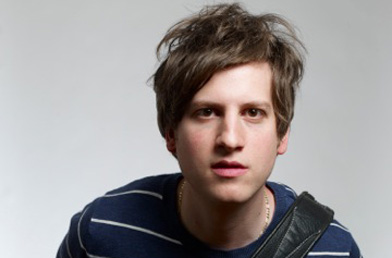 Jon Sandler has been steadily garnering attention on both sides of the pond since the release of 'Take My Time' earlier this year. The acclaimed song writer has been busy touring with prolific live performances across the US and UK.
We caught up with New York's finest while supporting Nell Bryden on a UK tour before heading back to the States.
Jon and his Fancy Band formed in 2010, led by Sandler. Where did it all begin?
I started writing songs when I was about nine years old and continued to do so up until High School and that's when I kinda started to perform. I was in musicals and I loved doing it and started getting good feedback so kept it up.
When I was seventeen I recorded my first album of originals. I then went off to college but continued writing and playing in bands. Soon After college I was signed to an independent label that helped me produce a high quality full length album and that's 'Late Night Champ'.
What has the response been like for the single 'Take My Time' and the album 'Late Night Champ' both in the UK and the US?
I could sense the joy as he explained: "The response has been surprisingly good, it's always so cool to see people from so far away from where I'm from, where I wrote the songs and where I live, connecting to them in the same way as I connect to them, and the same way the people close to me connect with them."
I've been really, really honoured and humbled by how receptive they've been and how willing they've been to let me in.
Tell us about the video for 'Take My Time' it's beautifully shot?
The video was a concept by photographer Brad DeCecco and we filmed it over the course of five days in Utah and Nevada, and probably 15 of the most beautiful locations I have ever seen.
It was one of the best weeks of my life, it was amazing. Travelling around with like-minded creative people, striving to make this thing as beautiful as it can be" he recalls.
I'm really happy with the way it came out
You have a very diverse sound. How would you describe your music?
That's a question people have been struggling with for years. People ask me what does it sound like? I don't quite know what to tell them.
Lately comparisons have been made with one person saying my music sounds like a cross between Beck and Ben Folds Five. Recently a blog said that I sounded like the love child of Adam Levine and Tracy Chapman. I've been telling people it's kinda like a pop-fusion.
So what music inspired you as a child, what did he grow up listening too?
My parents and brother where all into music so they exposed me to great music. I listened to the Beatles, The Grateful Dead, James Taylor, Annie Lennox, and that's still who inspires me, great songwriters and great performers.
What band are you listening to right now, what's on your playlist?
Right now I'm really into the band Cold War Kids. I know there not new but I just dug my teeth into them recently and I think they sound pretty close to the sound my band are putting out right now and it's exciting to hear that on a really high level.
One band I mentioned recently is Bon Iver. They are not new either but they feel new to me.
You were touring the UK with Nell Bryden, how did find it?
It's been great, I was in York, then Nottingham then London. I'd never been to York and it's beautiful and so is Nottingham and London feels like home so happy to be playing those places.
What's the reaction been like with the UK crowd?
They've been fantastic, they seem to get what I'm doing which is nice. In the United States and especially in New Your City there's so many artists doing the same thing there's this over-saturation where audiences get jaded so takes a lot to get them excited. It seems like here, the audiences are more willing to give new artist a chance. I've totally felt the love here so it's been cool.
If you could collaborate with anyone in the world, who would it be?
OMG that's a hard question. OK, honestly, this may sound nuts but living in New York I've kinda become a big fan of Jay Z so collaborating with him would be a thrill. Also on my bucket list would be Elton John, he's always been one of my favourites and would love to do something with him. I would like them both on a song together.
Your following is growing by the day. Are you enjoying the attention from groupies?
Yes definitely. I'm just trying to put out the best stuff that I can and enjoy and if people like it then I'm honoured.
What/where would your dream date be?
I love the beach so somewhere I havnt been, the South of France or Spain
If you could go back in time and give some advice or warning to your younger self, what would you say?
I would say to listen to other people, and also stay true to yourself but it's important to let other people in. I've learned this over the last five years, not only in the business side of things but also in the creative side of things and exciting things can happen when you do that.
But also it's important not to loose yourself in doing that and always stay true and feel confident in what your doing.