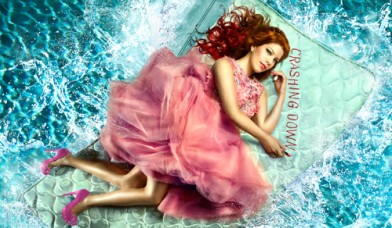 Pop singer and songwriter, Kady Z, – hot off the red carpet at the 55th GRAMMY Awards as a 'Fresh Face' of the GRAMMY Glam project – is preparing to release her infectious single, 'Crashing Down', after a successful trip to London, performing at and attending some of this season's hottest London Fashion Week shows.
'Crashing Down', due for UK release on 29th April, has a sing-a-long chorus with an infectious melody and incessant piano motifs, reminiscent of the stylings of US star Taylor Swift, delivering a confident and catchy sure fire hit.
Some of the music industry's biggest hitters are currently collaborating with Kady Z on her full album project, due for release this spring on Fraknwitch Records and distributed by Fontana / InGrooves, including GRAMMY award winning producer Tone Def (Green Day, Santana), video director Hannah Lux Davis (Lil Wayne, Cher Lloyd) along with management team Lippman Entertainment (George Michael, Matchbox Twenty, Ryan Cabrera).
As the daughter of singer and actress Pia Zadora (GRAMMY-Award nominee and Golden-Globe winner), Kady Z is no stranger to the limelight and is causing quite a stir in the U.S. in her own right. Aside from being a 'Fresh Face' at the 55th GRAMMY Awards after featuring in the GRAMMY Glam project documentary 'Behind the Beauty', Kady's single 'Crashing Down' has recently featured in hit MTV shows Snooki and JWoww and Jersey Shore. Also, the popstrel has showcased her musical talent on US TV, rubbing shoulders with U.S. stars Kelly Osbourne and RuPaul .
Kady Z credits eclectic artists Gwen Stefani and electro-pop goddess Robyn among her influences, merging subtle beat-driven bass lines and deep lyrics, paired seamlessly with addictive melodies to create her distinctive sound.
2013 is the year for Kady's star to rise even higher. Although her single is entitled 'Crashing Down', the only way is up for this promising new talent.