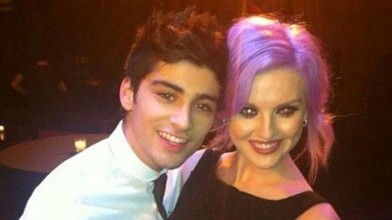 Zayn Malik is considering proposing marriage to his girlfriend Perrie Edwards, despite protests from his bandmates it has been reported.
The Bradford hunk has been with the gorgeous purple haired Little Mix singer for about a year ago and they certainly have weathered a major storm earlier this year when waitress Courtney Webb claimed that the One Direction star had cheated with her.
A source close to Zayn has revealed he is ready to take their relationship to the next level.
"Zayn's ready to settle down and take the next step with Perrie," a source told Reveal.
"They've been discussing getting engaged with family and friends and everyone thinks it's a great idea. Zayn's deadly serious about it and it looks like he could propose at any time."
The insider added: "After the scandal Perrie wanted a trial period to see if they could get through it. It worked and they've ended up growing even closer.
"Perrie says they could be engaged as early as the summer and that they'd have a big wedding for all their friends – including loads of celebrity pals."
However, the source also says that 20-year-old Malik's fellow One Direction members are "concerned he's too young" to get married.
We certainly hope this is true so much so were off to buy a new hat.