It's started again. The Wanted's Tom Parker has reignited their feud with One Direction's Louis Tomlinson and Liam Payne this morning with Max George, Eleanor Calder and Kelsey Hardwick joining in the spat too.
It all began when Tom Parker mentioned that Louis made references to The Wanted at their London gig on Saturday night:
"You even talk about us at your own gigs. Are you that upset you didn't get in this band?"
Naturally Louis had to respond: "@TomTheWanted Pal, we both know I wouldn't waste my time auditioning for your band. You humour me with your bad boy persona."
And then added: "Uh oh . @tomthewanted The Wanted's Tom Parker: My failed X Factor audition shattered me | http://metro.co.uk/2011/07/04/the-wanteds-tom-parker-my-failed-x-factor-audition-shattered-me-64958/ … via @MetroUK"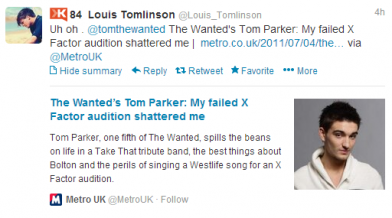 Tom Parker responded with tweet and video: "@Louis_Tomlinson you were too busy "wowing the judges" with THIS http://m.youtube.com/watch?v=MjHRvoPFHrI … #louisgottalent #nicework"
[youtube_video id="MjHRvoPFHrI"]
Tom Parker: "Yes @Louis_Tomlinson, I don't need to call producers to beg my way on to a track over my "friends" #crybaby #loyalty #louisgottalent"
Within minutes #louisgottalent was trending worldwide.
Louis Tomlinson came back with: "@TomTheWanted Interesting you have to entertain your many followers with lies. I actually think you could be the biggest twat on twitter."

Louis Tomlinson: "@TomTheWanted why don't we make your next single our movie soundtrack ?"
Tom Parker: "Hmm @Louis_Tomlinson I'd love to make the soundtrack to Mean Girls 3″
Louis Tomlinson: "@TomTheWanted not a bad idea actually maybe @maxthewanted could ask Lindsay?"
Louis Tomlinson: "@TomTheWanted P.S enjoy the press from this ."
Max George: @Louis_Tomlinson sorry did you want me?
Tom Parker: "@Louis_Tomlinson I'll enjoy the press even more when you come clean #narnia #itgetsbetter"
Louis Tomlinson: "@TomTheWanted You clearly spend too much time on twitter. Funny that face to face you act like a little girl. Goodnight old friend."
Liam Payne: "@TomTheWanted @Louis_Tomlinson hey Tom lets talk about your singing your amazing tone pierces my ears with every note :/"
Liam Payne: @TomTheWanted @Louis_Tomlinson p.s. tweet out when you have someone to speak to our drummer has more followers than you
Louis Tomlinson: "@Real_Liam_Payne @tomthewanted I also heard he wets the bed."
Tom Parker: "@Real_Liam_Payne aww bless!"
Liam Payne: @TomTheWanted ah I know it's embarrassing when your shit isn't it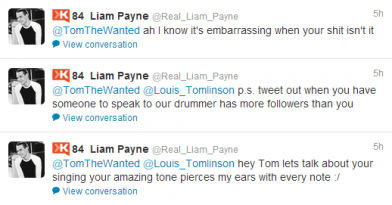 Jay McGuiness: "Dear @Louis_Tomlinson, please stop mentioning us in your gigs, we certainly no longer mention you and it's time to let dead dogs lie. Your passive-aggressive style of speaking makes me cringe, and I wish you'd either have the bollocks of some of your co-workers to speak truthfully, or the class of the majority of them to be silent. I'm not sure what's happened since we saw you at the XFactor, but you've done a sterling job of becoming one of the most overrated, arrogant and not to mention insincere people around. Your shocking lack of talent will only be forgiven by lots of humility and no-strings-attached friendship among your band. Louis, don't measure your worth in followers or money, because they're fickle, and when they go you might just feel worthless."
Louis Tomlinson: "@JayTheWanted this would be a lovely insight for your next book. You must have been a splendid student. Never forget you boys started this."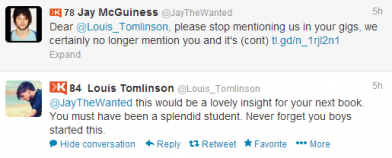 Even the girlfriends got their handbags out with Tom's girlfriend Kelsey Hardwick tweeting: "Louis spends more time tweeting Tom Parker than his own "well deserved" fans."
Louis' lady Eleanor replied: "#nipslip"
This was a reference to when Kelsey once suffered a nipslip.
Kelsey replied: @EleanorJCalder awwww bless ya!!! Did ya wanna see more!! Xxx
Louis ended the eventful spat with: "Huge love to all our fans!! What a fun filled night haha !"

Tom also did the sensible thing and called it a night: "Calling it a night. Ignoring negative comments from now on and concentrating on the important people…all you lot :-) peace x"