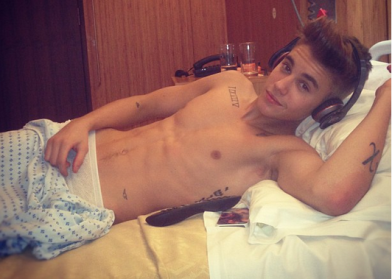 Justin Bieber is "getting better" by listening to Janis Joplin from his hospital bed after fainting during his gig at London's The O2 last night.
The 19-year-old singer was treated backstage for 20 minutes last night after complaining his lungs were hurting during his perfomance of 'Beauty and a Beat' posted a picture of himself in hospital, reassuring fans of his recovery.
In a message accompanying the photograph he revealed the music of late US singer/songwriter Joplin has been helping him to recover, writing: "getting better listening to Janice Joplin (sic)"
Justin also took to his Twitter account to thank his fans for all their "love" and support following the incident.
He wrote: "getting better. thanks for everyone pulling me thru tonight. best fans in the world. figuring out what happened. thanks for the love"