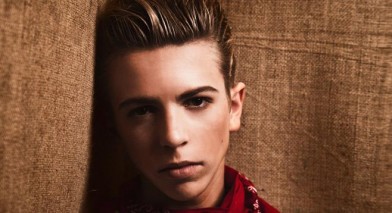 Singing sensation Dylan Hyde has recently inked a major label deal with Universal/Motown.
Hyde, aged sixteen, was discovered last November by music executives Shawn Campbell and Darrien Henning. Campbell also discovered Cody Simpson and signed him to Atlantic Records. After an impromptu showcase in the office of Island/Def Jam Vice President of A&R, Lenny Santiago, Hyde quickly found himself the at the centre of a bidding war.
After gaining the interest of Atlantic Records chairman Craig Kallman, Columbia Records, and pop star Ne-Yo; Hyde finally agreed to commit to Universal/Motown. Motown's deal with also include Push Music Group and EP entertainment. He will be working underneath the guidance of Motown president Ethiopia Habtemarian and Universal chairman Barry Weiss. Hyde is excited to release his music and as a thank you to his fans, will be releasing a free EP entitled "XO" on March 14th, 2013.
Hailing from San Diego, California, Dylan Hyde has rocketed to national attention in a very short time. In the past 3 months he has been featured in the February online edition of Teen Vogue, the November issue of Pop Star Magazine, and has been interviewed by J-14, Twist Magazine, and M Magazine. Hyde represents a departure from the traditional fan girl generated pop star.
His vocal tone and music is heavily influenced by R&B legends Stevie Wonder and the Jackson 5. "Dylan is one of the most refreshing and unique artists that I've met, heard and signed in a long time." says Def Jam VP of A&R, Lenny Santiago.
Santiago has been instrumental in cultivating the careers of music business power houses like Jay Z and Kanye West. Hyde is slated to be in the recording studio with Ne-Yo, The Dream and is currently recording in Los Angeles. "We are excited about the release of Dylan's free EP," states Push Music Executive Shawn Campbell. "We think that Dylan is an outstanding talent and are looking forward to doing our part to make his brand
On March 14th, 2013 Dylan Hyde will be releasing a free EP. Please consider releasing it on your site or publication in a link format. Attached is a link of Dylan Hyde singing a cover of Miguel's Adorned.
[youtube_video id="ELUvNG1OTqk"]