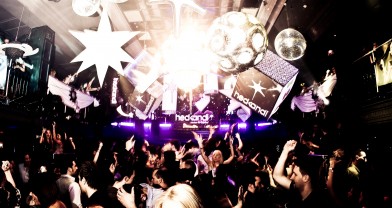 One of the world's biggest dance labels, Hed Kandi, is set to take over Sundown Festival's indoor stage to host the after show festival closing party on Sunday 1 September.
Open only to festival campers, the after show parties take place in the Warehouse Arena after each day's performances on the Main Stage and Stage 2 by the likes of Jessie J, Example, DJ Fresh, Rita Ora, JLS, Jamed Arthur, Jaguar Skills, DJ Friction, Netsky, Danny Byrd, High Contrast and many more.
Hed Kandi is sill to announce the two DJs and two live sax & percussion acts, but Hed Kandi's standards always set the bar and anticipation will be high.
This is in addition to the previously announced performances, with the Saturday Main Stage line-up, confirmed so far, now comprising, Example, Rita Ora, DJ Fresh, James Arthur, Jaguar Skills, Angel and Little Nikki, with Rinse FM's Saturday Stage 2 including sets from Skepta, Redlight, High Contrast, Zinc, Friction and Huxley.
Preceding Hed Kandi's Warehouse show, Sunday's Main Stage line-up confirmed so far includes Jessie J, JLS, Union J, Amelia Lily and Tich, with Hospitality's Stage 2 Sunday line-up boasts sets by Netsky, Danny Byrd, Nu:Logic, S.P.Y, Fred V & Grafix and Metrik, with gifted lyricists Wrec, Dynamite, SP:MC and Texas all providing additional MC vocals.
Sundown Festival spokesperson, Dion Clements comments: "With its distinct upbeat house music style, Hed Kandi is a truly global brand that we're very pleased to welcome to our Warehouse stage for the campers after show closing party".
The 'Circus Opening Party' on the indoor Warehouse stage – again accessible only with camping tickets – will see Doctor P, Funtcase, Cookie Monsta, Brown & Gammon, Roksonix and Krafty kicking off the weekend on Friday 30 August.
Tickets are on sale now for Sundown Festival, which will take place at the Norfolk Showground on Saturday 31 August & Sunday 1 September. For more information, or to book tickets for the event, visit www.nationalboxoffice.co.uk, or call 0871 224 1112 / 1113.
More details will be released in due course.