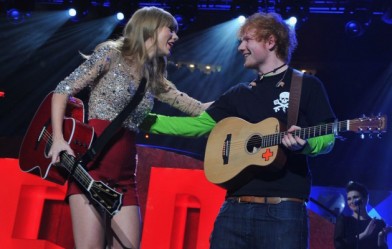 All signs according to the press show that Ed Sheeran and Taylor Swift are an item. However, the flame-haired singer has dismissed rumours suggesting they are dating, instead insisting they are just friends.
A source told The Sun newspaper: "Taylor has always loved Ed to bits. He's just an adorably sweet guy who makes her laugh and feel really confident.
"Harry had that irresistible bad boy thing but Taylor has realised she would rather give it a go with a guy who can make her happy on a different level."
Sheeran is due to support the Trouble singer on her US tour later this year, the insider continued: "Taylor made it clear when they go off on tour she wants Ed to be her boyfriend.
"He's thrilled as he has always thought she's amazing. When they split last year he always hoped they would get back together.
"They've both vowed not to have a nasty break-up no matter what happens."
According to US reports, Taylor and Ed spent the night together before last month's BRIT Awards, staying up talking until 4am at Taylor's London hotel.
Ed was spotted leaving the hotel the next day in the same clothes he had been wearing the night before.
Taylor has previously said: "I like people with red hair. I would do a ginger."
However, Sheeran seemed to rubbish the allegations last night, telling The Sun: "We're good friends."
Last December, Ed said he thought he was not good looking enough for Taylor.
He insisted: "We had great fun when we met, but I don't think I'm Taylor's type.
"If you look at all the dudes she's dated, they're all tall, brown hair, brown eyes, very attractive and all the girls scream for them. I'm chubby, ginger with blue eyes."