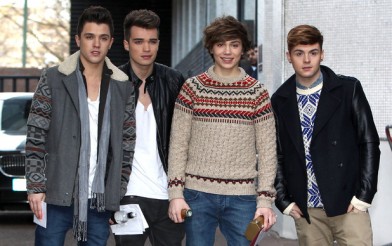 Last year's X Factor semi-finalist boy band Union J have been confirmed as additional main stage guest performers at this year's Sundown Festival.
The band, comprising Josh Cuthbert, Jamie 'JJ' Hamblett, James 'Jaymi' Hensley and George Shelley, became a four-piece during the X Factor series when then soloist Shelley joined the others.
It was announced in January that Union J had signed a record deal with Sony Music, with an anticipated debut single due out in June of this year.
Set to perform on the Sunday of Sundown, Union J joins the previously confirmed line-up of main stage weekend headliners Jessie J and Example, with JLS, DJ Fresh and James Arthur also performing at the festival, and with Rinse and Hospitality hosting Stage 2.
Sundown Festival spokesperson, Dion Clements comments: "Union J are very possibly one of the most popular and hotly anticipated X Factor acts not to have reached the final, so we're very pleased to have them performing at Sundown".
Tickets are on sale now for Sundown Festival, which will take place at the Norfolk Showground on Saturday 31 August & Sunday 1 September. For more information, or to book tickets for the event, visit www.nationalboxoffice.co.uk, or call 0871 224 1112 / 1113.
More details on the whole festival, including additional artist announcements, will be released in due course.