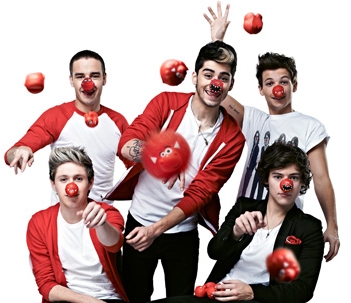 Earlier this year 5 piece boy-band One Direction went off to Africa to see the charity work that Comic Relief do.
After their trip the boys took to twitter and shared some words about their experience with their fans. Niall Horan described the trip as a "Real eye opener" and Harry Styles expressed "Today was the most amazing day I've had so far.. In my life ever"
Being inspired by their trip to Ghana the boys joined forces with Comic Relief to record a charity single to support the cause. The boys decided to cover Blondie's smash hit single "One Way or Another" which has real upbeat pop/rock sound to it. The boys also recorded a video for the single which will be released in a few days.
The song was released yesterday and is already at the top of Itunes charts in the England and countries such as Slovenia  Ireland, Denmark and many many more.
It looks like the 1D fans all over the world have come together to support their boys and an amazing charity. No doubt that this single will secure number one chart positions all over the world generating lots of money for a charity that the 1D boys were all so inspired from.
Make sure you grab your copy of One Direction's charity single now:
On Amazon:
On iTunes:
We're always on the lookout for writers/presenters/videographers and photographers. If you think you have what it takes to join the writing team. Get in touch!
http://www.popscoop.org/joinus/

Posted Under
Twitter
Join us on Facebook