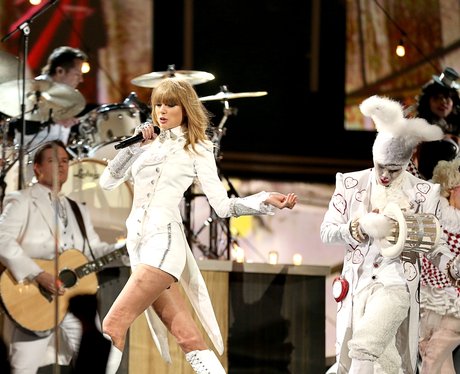 Last night music royalty gathered together for the annual Grammy Awards in LA. Taylor Swift opened the show with her smash hit single "We Are Never Ever Getting Back Together", where she appeared to mock ex-boyfriend Harry Styles.
During the performance Taylor mimicked an English accent in an ad-lib section of her hit, sparking more controversy around her relationship with ex Harry Styles.
"So he calls me up and he's like 'Ah still love you,'" she said, in a Harry accent (apparently).
"And I'm like 'I'm sorry, I'm busy opening up the Grammys… and we are never getting back together!'"
Other memorable performances included Justin Timberlake debut back to the music industry with his show-stopping performance of "Suit and Tie". Not forgetting Ed Sheeran and Elton John amazing duet singing the nominated "A Team" which is bound to go down in music history.
Big winners of the night included Gotye who took home 3 awards which included Record of The Year, Best Pop Duo and Best Alternative Music Album. Jay-Z and Kayne West also won big last night by taking home the awards for Best Rap Song, Best Rap Collaboration and Best Rap Performance. English sweetheart Adele added another Grammy to her extensive collection by winning Best Pop Solo Performance for her smash hit single "Set Fire To The Rain".
Watch Taylor Swift perform We Are Never Getting Back Together at last nights Grammy Awards
[youtube_video id="2fAvexRbh0s"]