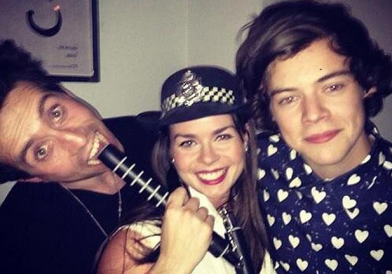 Harry Styles has admitted he had a "great night" and was "in stitches" when his birthday stripper – dressed as a policewoman – had forgotten her truncheon.
The One Direction heartthrob was celebrating his 19th birthday on Friday at The Alibi in Dalston, East London with his friends, including other celebrities, when Radio 1 DJ Nick 'Grimmy' Grimshaw set up the surprise.
Talking to The Sun newspaper, Harry revealed: "Grimmy said I had to sit there because he was bringing a cake.
"He started telling everyone to be quiet but I could see the cake in the kitchen and the candles weren't lit, so I was like, 'What's going on?' Then Grimmy said, 'Someone in here is under-age' and I saw a police hat bobbing through the crowd. I was like, 'Oh no!'
"The stripper didn't really say anything, she just began her routine. I have never seen my manager run so quick to cover the CCTV cameras but the pictures got out anyway."
Harry continued: "She stripped down to her underwear but unfortunately there was a no-nudity policy in the bar.
"She didn't handcuff me but the funniest part was that when she finished she said, 'I'm really sorry I couldn't find my truncheon so I had to bring my nunchucks'. That was a bit weird.
"Then a guy in our group came up and said, 'I went to college with her!'"