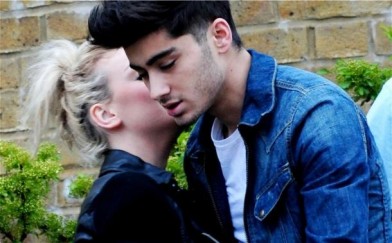 Zayn Malik's fling Courtney Webb was "reduced to tears" after receiving hundreds of death threats since revealing she slept with the One Direction star behind his girlfriend Perrie Edwards back last week.
Australian Courtney 'CJ' Webb claims she has been subjected to abusive messages from the 20-year-old 'Kiss You' singer's fans since revealing they spent the night together.
The 21-year-old waitress told The Sun newspaper: "I was expecting some abuse but it has got out of control. I've had hundreds of calls from all over the world.
"One American girl left me six voicemails in an hour saying she was going to kill me. It's really scary."
Courtney's number was made public by Leon Anderson, a friend of 20-year-old Zayn's. He eventually deleted it after three hours but she claims it was too late.

She said: "Leon's a nasty piece of work. It was Zayn who cheated, not me, and Leon let it happen."
Leon said: "Courtney was a friend who tried to cause an issue with another friend."
Despite reports of their fling, Zayn's girlfriend Perrie Edwards appears to have forgiven her shamed boyfriend and let him stay over in her luxury suite in Nottingham, where her girl band Little Mix were performing.
A source previously said: "Things are far from over between Zayn and Perrie. He came and stayed in the Little Mix hotel, where Perrie was booked in with her bandmates.
"Everybody gave them their space. They needed to talk things through before Perrie went on stage in front of a crowd."
Speaking just before the show at Concert Hall on Monday night , Perrie, 19, insisted: "I'm totally fine, I'm good. I'm looking forward to the show, this is going to be the best night."