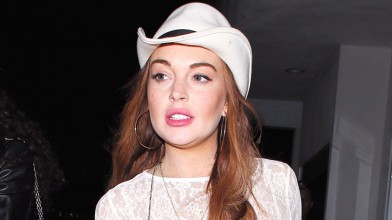 Lindsay Lohan took a last minute flight to Los Angeles from New York to appeared in court today after being warned a warrant would be issued for her arrest if she failed to show up.
The actress was supposed to appear in court to confirm the substitution of her lawyer but originally said she was too ill. After being warned she could be jailed if she failed to appear, Lindsay took the last minute first class flight to confirmed that Mark Heller, her new lawyer, will represent her in the case, after cutting ties with long-time attorney Shawn Holley.
The actress had previously filed papers stating that she was too ill to fly back from New York to LA to attend the court date, however she changed her mind after she was photographed shopping in New York on Saturday, the same day on which she was examined and deemed to have an upper respiratory infection.
The 26-year-old actress – whose probation remains revoked because she allegedly lied to police about driving her car during a crash last June – was told by Judge Stephanie Sautner: "Glad to see you're feeling better," after her new lawyer admitted, "I know there was some drama with her appearing today."
Judge Sautner set a trial date of March 18 as well as another hearing on March 1 that Lohan is not required to attend in person.
Lohan has pleaded not guilty to lying to police, reckless driving and obstructing officers from performing their duties.