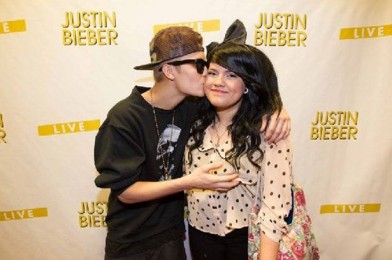 A representative for Justin Bieber has moved swiftly to deny reports the singer groped a fan's breasts after a recent concert in Miami.
The "Boyfriend" hit maker found himself embroiled in controversy after a picture of him apparently grabbing a female fan's chest went viral after she posted the snapshot on her Twitter page.
The teen, named Jocelyn also took to Twitter to defend her idol: "I'm dying hahahahhaha it looks like Justin's touching my boob in the picture.
"Let me clear this up for people who can't read, NO I did NOT ask Justin to touch my boobs."
Now a spokesperson for the pop star has spoken out to make it clear Bieber did not touch Jocelyn inappropriately.
The rep tells EOnline.com, "It's ridiculous. That definitely did not happen."
Justin himself later took to Twitter, and whilst not addressing the issue directly, went on a rant.
"Alot of bs has been out there lately…seems like it never stops. answering for myself thru music… To everyone around the world. thanks for believing. I AM GRATEFUL," he wrote.