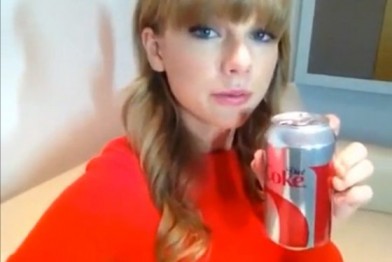 Taylor Swift has partnered with Diet Coke for her 'Red Tour' in the US, and has promised 'many fun things having to do with the tour'.
The 'I Knew you Were Trouble' singer posted a video (see below) on her website, entitled Some Extraordinary News, saying: "I wanted to share some news with you because we're actually making it official with one of the great loves of my life … Diet Coke.
"I wanted to tell you guys first. We've been in conversations about this partnership that's gonna include so many fun things having to do with the tour, having to do with Diet Coke in general, behind the scenes of the commercial shoot."
Taylor's ex, Harry Styles, has a deal with rival cola brand Pepsi, through his band One Direction.
Taylor reportedly avoided a run in on the red carpet with ex Harry at the NRJ awards by delaying her arrival to the event by 25 minutes.
A source said: "It was very carefully timed so they didn't do the carpet at the same time.
"Taylor didn't do any backstage interviews and didn't use a dressing room – she changed at the hotel because she didn't want to see Harry at any point. Things were timed to keep them apart and for it to not become a big media circus."
[youtube_video id="LyoTb3fxEnU"]