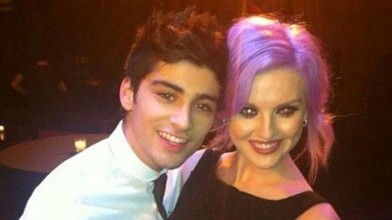 Perrie Edwards has been urged to dump One Direction star Zayn Malik and get a boyfriend who treats her with "respect", amid claims he cheated on her with Australian waitress Courtney 'CJ' Webb.
The Little Mix singer is said to be "shocked" after an Australian waitress, Courtney 'CJ' Webb, alleged she slept with the 20-year-old star at his £2.2 million mansion in London last week while Perrie was on tour with Little Mix.
A friend close to the 19-year-old star told the Daily Mirror newspaper: "She's shocked by what this woman said and doesn't know what to think. Her head's all over the place.
"Her friends have been telling her that he's a rat who will never change his ways. They've been saying that she's gorgeous and successful, and should find a man who will treat her with the respect she deserves."
Following the allegations, Zayn flew back to the UK yesterday after spending the weekend in France for the NRJ Awards in Cannes with 1D – for showdown talks with Perrie.
He headed straight to a hotel in Nottingham – where Perrie is staying with her fellow Little Mix singers ahead of a gig in the city tonight. The couple are said to have emerged from the hotel looking "extremely tense".
Zayn puffed on a cigarette before climbing into a cab with Perrie, 19 and As the car pulled away she avoided looking at him by applying make-up.
However, insiders believe she will forgive Zayn.
A source told The Sun newspaper: "Perrie's still deeply in love with Zayn. She's very unlikely to end the relationship after this episode.
"The fact that they are physically together speaks volumes.
"It looks like she's willing to give him a second chance.
"Her friends and bandmates know she's head-over-heels in love with him. But she'll certainly be keeping a closer eye on him after this incident."
We're always on the lookout for writers/presenters/videographers and photographers. If you think you have what it takes to join the writing team. Get in touch!
http://www.popscoop.org/joinus/

Posted Under