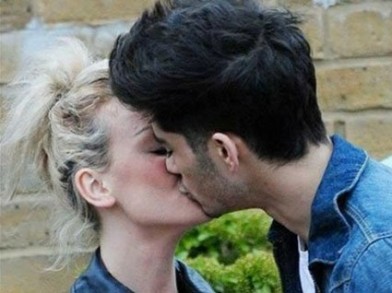 Perrie Edwards has reportedly forgiven Zayn Malik – who is alleged to have cheated on her with Australian waitress Courtney 'CJ' Webb. The Little Mix singer let the 1D star stay over in her luxury suite in Nottingham, where her girl band was staying and performing.
A source told The Sun newspaper: "Things are far from over between Zayn and Perrie. He came and stayed in the Little Mix hotel, where Perrie was booked in with her bandmates.
"Everybody gave them their space. They needed to talk things through before Perrie went on stage in front of a crowd."
Following the allegations, Zayn, 20, flew back to the UK on Sunday after spending the weekend in France for the NRJ Awards in Cannes with 1D – for showdown talks with Perrie.
After what looked like an uneasy meeting, it has emerged the couple spent the whole night together, with Zayn appearing bleary-eyed on Monday morning.
Speaking just before the show at Concert Hall last night, Perrie, 19, insisted: "I'm totally fine, I'm good. I'm looking forward to the show, this is going to be the best night."