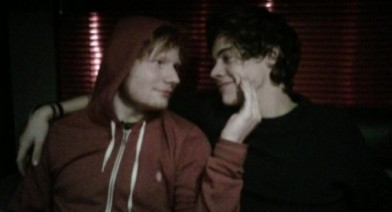 Ed Sheeran has admitted his favourite member of boyband One Direction is close pal Harry Styles.
The singer/songwriter has formed a good friendship with all the boys after writing their single 'Little Things', but says: "Harry is the one I'm closest to. I made friends with him before I know who the band was."
Well things could get awkward as Ed is also close to Harry's ex Taylor Swift.
In an interview with People magazine, he said: "We met by just being fans of each other and reaching out. Then we just started hanging out. We have the same kind of work ethic. But I don't know if I'm her type."
"Emma Stone is my dream girl but she's all taken so I need to find someone else."
Back in February last year, Ed revealed, "I'd wake up on a sofa sometimes with Harry on the other sofa. We developed a friendship." The two stars even celebrated Ed's number 1 in a rather unusual way. He added, "When I went to No 1, I bought a Lego Star Wars Millennium Falcon. Harry bought me the Imperial Star Destroyer and we stayed up until about 3am making it."

Awwwww, is this the cutest bromance or what?