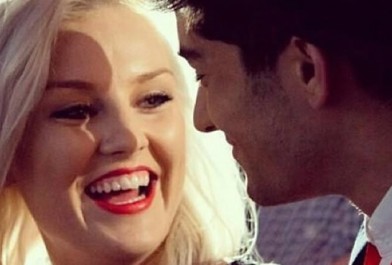 One Direction star Zayn Malik has apparently cheated on his long-term girlfriend Perrie Edwards of girl band Little Mix – with an Australian waitress.
The Sun interviewed the waitress, Courtney 'CJ' Webb, (for a small fortune, no doubt) and says that she slept with Zayn slept on January 23rd this year at his home in London while Perrie was on tour with Little Mix.
Apparently, Zayn told her that he didn't have a girlfriend, however, at his house, she saw pictures of Perrie and items belonging to her.
CJ told the paper: "He's an absolute s**t. How dare he – not only to me but to Perrie?"
"I'm not a One Direction fan. I don't follow what they are up to. So when it clicked that he had a girlfriend I got more and more angry. I definitely don't think it's the first time he's done this. I feel sorry for Perrie – she doesn't know this is going on. It's wrong and it has to stop."
"He was a really nice guy. We were talking about music and playing songs on his iPad. He even gave me a maroon jumper when I was cold. He was drinking vodka and we were having a laugh. I asked him if he had a girlfriend, and he said he didn't. He said he wanted to enjoy being 20." She continued.
"She also claims she then realized he may have a girlfriend after seeing a number of Perrie's belongings dotted around his room, including fake eyelashes and make-up. But he allegedly told her: 'Don't worry about her she's on tour.'"
As soon as they were alone together CJ then claims the X Factor star "pounced" on before they "enjoyed intercourse".
Malik allegedly asked her to leave and tried calling her a taxi straight after.
CJ claims: "Zayn made me feel special… but after sex he just said 'Put your clothes on, I'll get you a taxi'".
The paper says that they then fell asleep, and CJ took a photo of him and his recognizable tattoos lying in the bed.