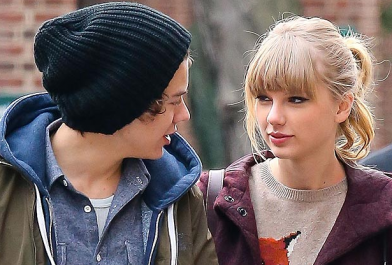 Taylor Swift has flown back to the UK either in a reported effort to win back Harry Styles or as Part of the "clearing the air" talks initiated by Simon Cowell.
The couple dated for several months before splitting earlier this month, after they got into a huge argument while holidaying in British Virgin Islands.
Taylor Swift arrived at Luton airport on her private jet yesterday and it appears Tshe is looking to possibly reunite
A source told The Sun newspaper: "Taylor flew to Luton and then travelled to London yesterday – and there's talk of a meeting with Harry being on the cards,"
"She has no obvious reason or promo duties in London this week."
The timing works well if Taylor does want to try to rekindle the relationship as Harry isn't working at the moment. The One Direction star has been in Japan with his band mates, but they recently returned home.
"Harry has just got back from a small tour in Japan with the band and now has four days off," the insider said.
"Out of all the hotels there are in London, Taylor has opted for one close to Harry's house."
Last week One Direction boss Simon Cowell advised Harry to put any hard feelings behind him and stop ignoring Taylor's calls.
The source claims heartthrob Harry spoke with Taylor on the phone while the boys' where in Ghana for Comic Relief.
"Taylor was keen to meet face to face and talk things through but Harry felt there was nothing left to be said," the insider explained.
"Plus the boys' schedule meant it wouldn't have been possible as they were due to fly to Japan."