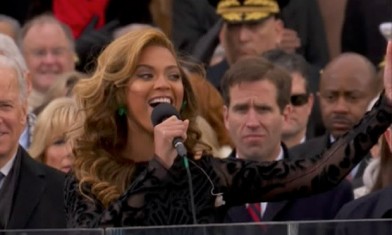 Beyonce Knowles performed the American national anthem at Barack Obama's US presidential inauguration on Monday.
The singer – wearing a black dress and emerald earrings – sang 'The Star Spangled Banner' following the president's swearing-in and speech.
Beyonce and husband Jay-Z were joined by other guests including Katy Perry, John Mayer and Eva Longoria
Kelly Clarkson and James Taylor also sang at the inauguration which saw Obama address the public and be sworn in for a second term as US president.
[youtube_video id="3KfNXpi8S_Y"]