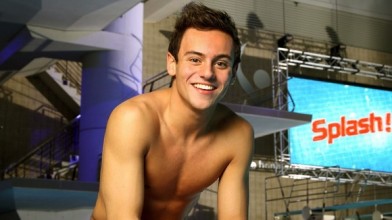 Olympic diving star Tom Daley has toppled David Beckham from the top of the Hottest Hunks annual poll compiled by Heat Magazine in his debut.
The 18-year-old – who has been mentoring the contestants in ITV show Splash said he didn't think of myself as a hunk.
"I don't think of myself as a hunk. I just think of myself as a normal person who still goes to school, who still has to train 30 hours a week and who just gets on with life."
"It's surreal because I just do diving because I love doing it. For people to vote for me like this is great and I want to say a big thank you to everyone who voted," he added.
One Direction take two places in the top 10 with Harry Styles at six and Zayn Malik at eight.
Hottest Hunks of 2013 Top 10:
1 (-) Tom Daley
2 (40) Channing Tatum
3 (1) David Beckham
4 (10) Zac Efron
5 (2) Ryan Gosling
6 (18) Harry Styles
7 (17) Taylor Lautner
8 (51) Zayn Malik
9 (22) Olly Murs