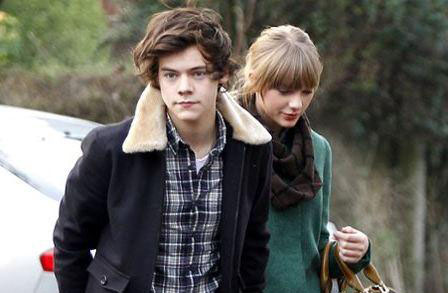 Harry Styles and Taylor Swift have reportedly cleared the air following their recent split after One Direction boss Simon Cowell advised him to put any hard feelings behind him and stop ignoring her calls.
An insider told The Mirror: "Harry still really likes Taylor but, like anyone who has gone through a break-up, he's found it difficult to speak to his ex."
"After flying back to the UK, Harry's been trying to figure things out and in order to do that he decided to initially avoid her calls.
"Simon gave Harry a friendly warning that any animosity between him and Taylor could jeopardise One Direction's popularity in the US.
They're two of the world's biggest music stars, and Simon knew that, although things didn't work out between them, they were bound to meet at various events and awards ceremonies."
The source claims heartthrob Harry spoke with Taylor on the phone while the boys' where in Ghana for Comic Relief.
"Taylor was keen to meet face to face and talk things through but Harry felt there was nothing left to be said," the insider explained.
"Plus the boys' schedule meant it wouldn't have been possible as they were due to fly to Japan."
Styles is thought to have told Swift that he holds no grudge and "hoped things wouldn't be awkward".
The pair are reportedly both heading to the Brit Awards next month, which could be their first encounter since the break-up.