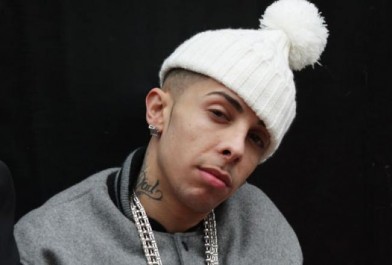 N-Dubz star Dappy has been found guilty of affray and one assault offence in connection with a petrol station brawl that took place on February 2011.
Dappy and three accomplices – Kalonji David Stewart, Kieran Vassell and Alfred Miller – are said to have tried to impress Grace Cochran and Serena Burton, who were both then 18, by "chatting them up", Grace told the jury.
However, Dappy – real name Costadinos Contostavlos – turned nasty when the girls called him "boring" and proceeded to call them "sl*ts" and "ugly" as well as spit at them.
He has been found not guilty of two other counts of common assault, in which he was accused of spitting at but missing the two women.
David Jenkins, who had been talking to the two women, stepped in to protect them, Dappy responded by spitting at him and putting him in a headlock and punching him.
The trial was told that saliva was found on Jenkins' T-shirt, forensic scientist Carolyn Smith explained : "We estimated the probability of getting this DNA profile from another person who was unrelated to Mr. Contostavlos as one in a billion."
Dappy was cleared of charges stating he struck two other males at the scene, who had joined in to help.
Kalonji David Stewart and Kieran Vassell were also both charged with affray.