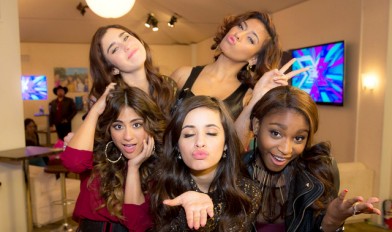 Finishing third place on the X Factor isn't such a bad thing. Just ask One Direction. And now, X Factor USA's Fifth Harmony have signed a contract in a joint deal between Simon Cowell's Syco Music and LA Reid's Epic Records.
The girl group who were formed by Cowell during The X Factor and also went on to finish third in the competition.
Cowell confirmed signing Fifth Harmony to a recording contract on Thursday, a day after asking his followers on Twitter what they thought of the group.
on Tuesday he wrote: "I see a lot of support for fifth harmony. Do you think we should sign the girl?"
Later adding: "Maybe it's time for a large dose of girl power…"
In a statement announcing the signing, Simon said: "I knew from the girls' first performance at the judges' homes that we'd done the right thing," Cowell announced to People. "The chemistry between the girls both on stage and off is fantastic, and they are incredibly talented."
Fifth Harmony's Camila Cabello also commented on the signing, saying.
"The fact that we're being given the opportunity to make music that we want feels like a dream we never want to wake up from. I literally have to pinch myself."