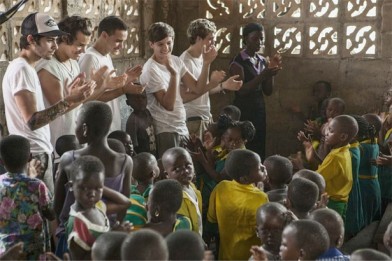 ONE Direction recently spent some time in Africa for Comic Relief and have posted a picture of the boys greeting children at a school in the deprived area of Accra.
Harry Styles tweeted: "Today was the most amazing day I've had so far.. In my life ever.
"@rednoseday Thank you so much for having us. It was amazing and we'll see you soon .xx"
Harry followed up with a photo of the boys in Accra, the capital of the west African country, with the tweet: "Little preview of our incredible time in Accra, Ghana. @rednoseday we will always owe you for taking us. Thank you .xx : "
The other boys also tweeted. Liam said: "Having the most amazing few days of my life !"
Niall posted: "Just arrived back from Accra, Ghana! Best experience ever!
"I've seen the slums right in front of me! This is no joke! They really need your help! Poverty is real.
"Massive thanks to rednoseday for taking us to Ghana! It was incredible! real eye opener! We take so much for granted over here!"
Louis, 21, wrote: "So honoured to be a part of @rednoseday . Met some beautiful people over in Ghana. Please donate big this year!"