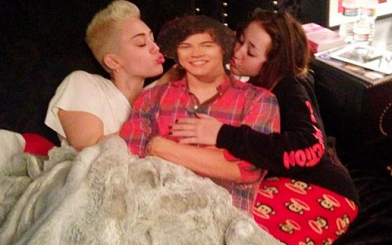 Only hours after Haylor break up, Miley Cyrus is the latest celeb to climb into bed with One Direction heart-throb Harry Styles.
However, fans need not fret this time round. This Harry Styles was a life sized cardboard cut-out of the 18-year-old hunk.
Miley, aged 20, bought the cut-out for her younger sister Noah – who turned 13 yesterday. She then posted a picture of the cosy threesome on her twitter account.
To accompany the picture Miley wrote: "All I want for my birrffffday is a big booty hoe. All @noahcyrus wants for her BIRFFFDAY is @harry_styles."
The picture of Miley cosying up to the cut-out caused a bit of a stir from her followers, given that she's engaged to Liam Hemsworth.
But Miley was quick to dismiss any ideas of her having a soft spot for Harry.


She wrote: "In no way do I want Harry. No offense. I'm sure that'll be a story now 2. I'm happily engaged. Just got saucy with a cardboard cut out."