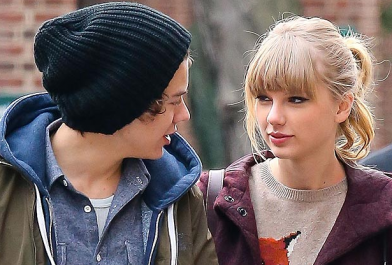 Were not sure how true this is but many sources are now claiming Harry Styles and Taylor Swift have called it a day.
They have been spending all their free time together lately but it seems the couple split following their recent trip to the British Virgin Islands.
The rumours began when Taylor posted a random tweet on Saturday with a lyric from "I Knew You Were Trouble," her recent single which some suggest might have been written about Harry Styles before the two reunited.

She Tweeted: "…'til you put me down.' (the preceding line is, "Flew me to places I'd never been"). fans are speculating that Harry may have done something to end the relationship while the two were travelling. The couple may have arrived on the island together, but they left separately.
Perez Hilton posted that: "It's been confirmed by multiple sources that Harry Styles and Taylor have OFFICIALLY called it quits"
One source stated: "They are both really busy and never in one place for long. Harry's really upset about the split and is really sensitive about it. Loads of his friends told him to be careful and that it was never going to last, and he feels a little foolish now that it's fallen apart so quickly."
Another source claimed the two had a heated argument on Friday, which led to Haylor's demise and Taylor taking the first flight out!
Speaking to the Mail, they said: "Yes I can confirm they have split up. They were on holiday and had an almighty row. They are two young stars at the top of their game so who knows what will happen in the future,"
Another mole told Business Insider: "When Taylor left for the states, Harry went to Branson's island for the day to let off some steam."