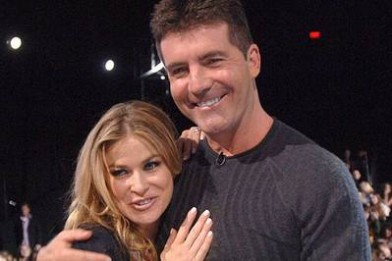 Simon Cowell has confirmed he is dating Carmen Electra but insists she is not his girlfriend even though he is smitten with the 40-year-old beauty.
Speaking to Ryan Seacrest on his radio show on Wednesday, The 53-year-old music mogul admitted: "She's not my girlfriend. We're people who date. She's adorable, isn't she?"
Carmen has yet to confirm the news, but last month she revealed she had fallen for the British millionaire after she filled in as a guest judge on 'Britain's Got Talent'.
She said: "He's so cute. He is adorable. He's actually a sweetheart … I really liked him. I think he's really cool. Now, obviously, he's in [Los Angeles] with X Factor and we started to hang out and we became friends … I think he's a great guy."
Simon split with makeup artist Mezhgan Hussainy last year.