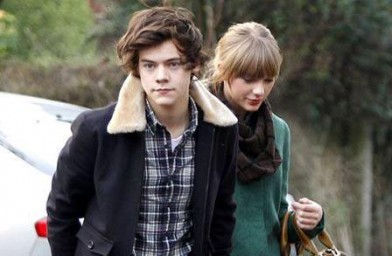 Taylor Swift has only recently started dating Harry Styles but friends say they are completely smitten with each other already. The relationship is not just one-side either with Harry buying Taylor 23 cupcakes for her 23rd birthday on Thursday.
A source told HollywoodLife.com: "From what I've seen, Taylor and Harry are totally falling in love. At first, she just wanted…him because he's hot. But now they're being cutesy together. She totally sees a future, not like with her ex John Mayer."
"Taylor totally falls for boys and then doesn't…let…go." The friend added: "He likes her too."
The One Direction heartthrob ordered 23 cupcakes for her 23rd birthday from Chapelford Village's Custom Cupcake Company in Cheshire, north west England to help his girlfriend celebrate her big day.
Co-owner Matt Blakely told E! News: "A lady called us asking if we could supply some cupcakes. I told her we were busting at the seams because of the holidays. She said it was for Harry Styles, and I said, 'Oh, OK, cool. Send him along.'
"Later, I got a phone call from my wife that Harry Styles was standing on the doorstep. I didn't think he would come to pick them up."
The couple also took a romantic drive around the English countryside before enjoying an afternoon meal in the George & Dragon Pub in the village of Great Budworth.
Earlier this week, Taylor and Harry, 18, enjoyed a romantic mini break with his parents in England's picturesque Lake District and a day out in Bowness-on-Windermere in Cumbria, where they shopped for Christmas presents together for their families.
Local eyewitness Claire Dibbs said: "I was hyperventilating, I just never expected to see them. She introduced herself, she was really lovely. She said they were just here for the day and I think they were there with his parents. Taylor said they were leaving soon.
"Taylor had a lot of bags from Beatrix Potter world – I saw some cuddly toys poking out of the top of the bag. They'd done a lot of shopping. Taylor said she loved the area and said it was really pretty."
Harry was spotted at a restaurant introducing his new American girlfriend to his sister Gemma on Monday (10.12.12) and the pair couldn't keep their hands of each other.
A fellow diner said: "Harry and Taylor were putting spoons on their noses and fooling around with each other and taking photos of each other. After that they were stood talking and Harry kept putting his hand on Taylor's bum.
"Taylor had her arms around him a lot and they were really close all night."
However, some pals are worried they are getting too serious, too fast.
One insider said: "For now she is totally caught up in love. It's how she is. She doesn't go at a normal pace in these relationships. It's zero to 60 in seconds.
"Taylor's a serial dater. She gets too clingy with guys or she gets sick of them. Harry will break her heart but isn't that the point? It'll become material for her next album."