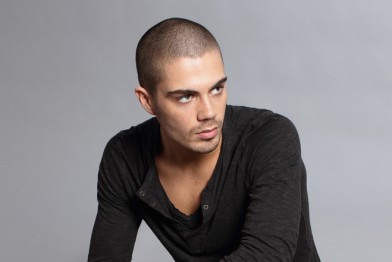 Max George has admitted he is probably not the best influence on his new love interest Lindsay Lohan but is having fun with her.
The Wanted singer – who has enjoyed a string of dates with the 26-year-old troubled starlet since they met late last month on the same night she allegedly punched fortune-teller Tiffany Mitchell for flirting with him and has since been charged with assault – says he is having fun with the actress but admits he is probably not the best person to give her advice.
The 24-year-old British heartthrob told USMagazine.com at the Jingle Ball in New York: "It's fun, she's a good girl. She can party nearly as hard as we can.
"I'm sure she's got people around her that know much better than we do. We're probably not the best influences."
Max's bandmate Tom Parker also opened up about his budding friendship with the 'Liz & Dick' star, saying: "We had one night on the bus, with her and a bunch of our friends, which was a good time."
[youtube_video id="OgysqvJorxo"]
Back in the UK, backstage at the Capital Jingle Bell Ball in Manchester, Tom admitted band member Max was not dating Lindsay Lohan but sarcastically said she was their "groupie".
The band described a "night out with Lindsay" as "always eventful" adding "she's great fun".
When asked if the actress had flown back to London with them, the singers said she had not but admitted they would not be surprised if they found her "hiding in a suitcase" later.
The band joked further about making up with One Direction after their recent twitter fight and sarcastically said they had apologised and "hugged" it out.
Meanwhile the actress appears to have swiped a sweatshirt from her latest hookup Max George. On Saturday Dec Lohan tweeted Max with a photo of a black hoodie: "Missing something?" read the caption.