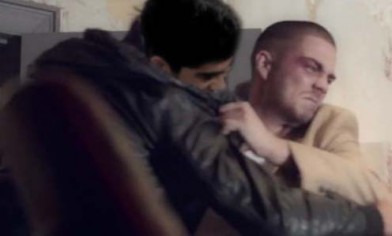 The Wanted have said that they want to avoid a physical fight with One Direction saying they could get in trouble with the police if things turn nasty in New York City on Friday.
The boy bands' feud has been ongoing but heated up when 1D's Zayn Malik called Max George a "chlamydia boy" on Twitter.
TW singer Max George then stating to 1D that if they have a problem, they can "come and see me in New York," where both bands are to perform at the Z100 Jingle Ball concert at Madison Square Garden on Friday (7th December).
"It started off as plain fun I think and then I think one of them started getting a bit arsey and started getting a bit serious," Max told MTV News of their feud.
"We tried to play off still as a joke but then it carried on so we just put it out there, 'If you got an actual problem come see us in New York.' But I'm not sure they will, I think people have been in contact saying if we go near them we can have our Visas taken off of us and all this s**t," he continued.
Nathan Sykes added: "And get arrested, apparently."
George however doesnt seem fazed by the US authorities, he added: "Well we don't care. It's nothing we haven't done before so we'll see."