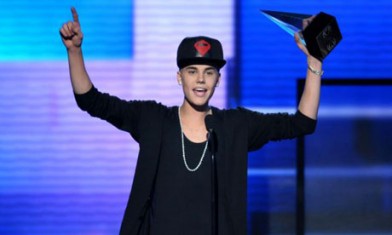 Justin Bieber's manager, Scooter Braun, is furious the teen heartthrob hasn't been nominated for any Grammy Awards.
The Canadian singer's third album, 'Believe' has been a huge hit since its release in June – selling over a million copies and spawning the number two single 'Boyfriend' in the US – and his manager Scooter Braun is upset he hasn't been put forward for any Grammy Awards.
In a series of tweets, he wrote: "I just plain DISAGREE. The kid (Bieber) deserved it. Grammy board u blew it on this one. The hardest thing to do is transition, keep the train moving.
"The kid delivered. Huge successful album, sold out tour, and won people over … this time he deserved to be recognized and I don't really have any kind nice positive things to say about a decision I don't agree with.
"So to all those nominated … you do deserve it. You worked hard and u earned it. (I) just feel like so did JB. (sic)"
Scooter, 31, did praise Carly Rae Jepsen – another of the artists he manages – after she scored two nominations, Song of the Year for her huge single 'Call Me Maybe' and for Best Pop Solo Performance.
He posted on Twitter: "Congrats to Carly Rae Jepsen. Thought u deserved a Best New Artist nom, but proud Call Me Maybe got u 2 noms. So proud of u (sic)"
Carly, 26, was excited about her nods, tweeting: "Over the moon excited. Two @theGrammys nominations!!! Extremely thankful. (sic)"