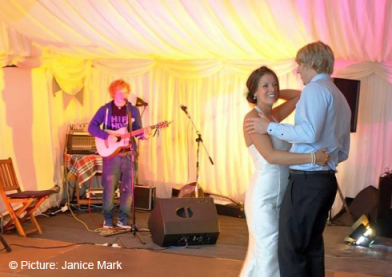 One Direction played a sold out show in Madison Square Garden on Monday and were joined by a very special guest. Singer-songwriter Ed Sheeran.  There can be no doubt that 21-year-old Suffolk boy has hit a level of superstardom only a few will ever achieve. But it was only two years ago that Ed was playing pub gigs around East Anglia.
Mary and Laurence Brooks had seen Sheeran playing gigs on the Norwich music circuit several times and asked him to play at their wedding around six months before they tied the knot in August 2010.
Speaking to the the Norwich Evening News, Mary revealed their first meeting with Ed:
"We first saw him at Norwich Rocks years ago and all the songs which are now famous, I have been listening to for years.
"At the end of a gig at a small venue we went and asked him and he said 'of course'. So we had booked him six months in advance and he was still relatively smallish then but was pushing himself and had moved to London by then.
"So when it got close we thought there was no way he'll turn up, so we text him and he said he would and he was flying in from America the next day.
"He'd had a meeting with Island Records about a deal but he turned them down because they wanted to change him too much."
Mrs Brooks continued: "He turned up quite early at the reception and played a set between 5pm and 6pm and played his songs and everyone was quiet and watching him.
"Then h"He came back on for three hour later and people were just requesting songs, he hadn't planned it all, it was all just off the cuff.
"He also played the song for our first dance as well. He'd been in Los Angeles and he wrote a song for us because he didn't have any romance songs and now it's on his album '+', called Wake Me Up."
[portfolio_slideshow id=2554]