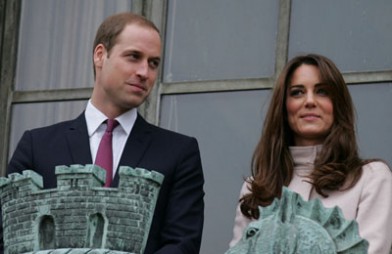 The Duchess of Cambridge Kate Middleton has announced she and her husband Prince William are expecting their first child together.
The beautiful royal and her husband Prince William – who is second in line to the British throne – announced today (03.12.12) they are expecting the first child together.A statement released by Buckingham Palace on the couple's official website read: "Their Royal Highnesses The Duke and Duchess of Cambridge are very pleased to announce that The Duchess of Cambridge is expecting a baby."The Queen, The Duke of Edinburgh, The Prince of Wales, The Duchess of Cornwall and Prince Harry and members of both families are delighted with the news."The Duchess was admitted this afternoon to King Edward VII Hospital in Central London with Hyperemesis Gravidarum [morning sickness]. As the pregnancy is in its very early stages, Her Royal Highness is expected to stay in hospital for several days and will require a period of rest thereafter."
Speculation the duchess – who was known as Kate Middleton before her marriage in April 2011 – could be pregnant was sparked last week when on a visit to Cambridge, William accepted a gift of a babygro with 'Daddy's little co-pilot' and a picture of a helicopter on it from new mother Samantha Hill, the motif is a reference to William's RAF search and rescue pilot career.
It had also been speculated the prince will step down from his role as a search and rescue pilot, to return to the Household Cavalry to allow him to move back to London and free up more of his time.