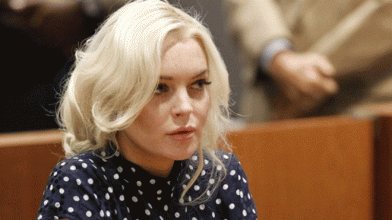 In what we thought was just another average night out for Lindsay Lohan. The fight with a female patron in a New York nightclub on Thursday was over Max George from The Wanted.
According to TMZ, Lindsay, who has been charged with third degree misdemeanor assault following the incident, had been out to watch The Wanted supporting Justin Bieber's Madison Square Gardens concert.
The actress hoped to meet The Wanted afterwards but was blocked from going back stage.However she joined Max, Jay and Tom at a club later that night.
Lindsay tried to make a move on Max but it looks like he wasn't too impressed with her drunken state.
The evening descended into chaos as Max started chatting up another woman, which left Lindsay pretty 'pissed off' leading her punch the woman.
Max tweeted 'eventual night' on Thursday afternoon.