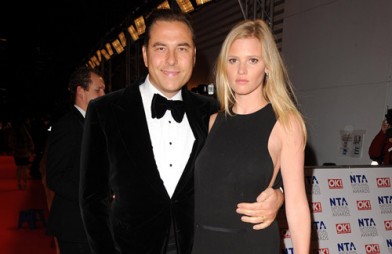 Dutch supermodel Lara Stone and David Walliams – who is known for portraying an adult comic character who was still nursed in public by his mother in TV show 'Little Britain' – are expecting their first child together and the comedian admitted he has "always wanted" to try the food.
He said: "I was never breast-fed, apart from on the show. With my mum it was formula.
"I have always wanted to taste breast milk, as I've heard that it's sweet and salty at the same time."
David, 41, admitted he and 28-year-old Lara – who he married in May 2010 – wanted to start a family before he got much older as he worried about being mistaken for his child's grandfather.
Speaking to TV host Alan Carr on his show 'Chatty Man', he said: "It's lovely, it's a wonderful thing.
"We were just thinking about it now I'm married and I'm quite old. I'm 41, so I thought I'd better get on with it. You start thinking, 'When they're 18, I'll be 50.'
"I'll be at the school gates and people will be asking them, 'Is that your grandad?' "
And the TV star admitted he finds his stunning wife more attractive than ever now she is carrying his child.
He said: "Lara's great. I think a woman is never more beautiful than when she's pregnant. She looks so full of life and happy, it's great."