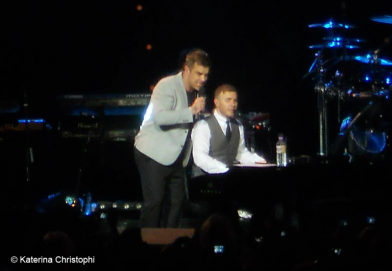 Robbie Williams was a surprise guest at Gary Barlow's show in London last night (November 27) in a performance that nearly didn't happen due to a water shortage at the Albert Hall.
Speaking backstage just five minutes before the show, Gary said: "At the moment the show's off – there's no water in the building and because of health and safety you can't start a gig without it. Hopefully it comes on soon because at the moment I'm not going to be playing tonight."
Eventually, the water supply returned and the show was given the go-ahead with Robbie joining Gary on-stage to perform 'Eight Letters' and hit 'Candy' towards the end of the set.
One fan wasn't too pleased with the situation: "During the interval they closed the bar. They said that by law they weren't allowed to serve food or drink as they had no running water. Loads of people complained though and they re-opened it, but if you needed the loo, you were sent across the road to the Imperial College to use their facilities, Outrageous!!!"
See the moment below:
[youtube_video id="1zQTTdxFE0I"]