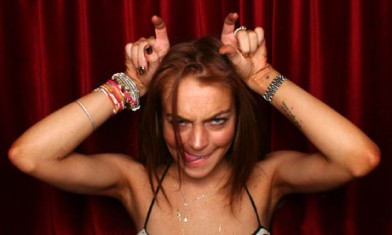 Lindsay Lohan is in custody after allegedly punching a woman in a New York nightclub.
The troubled star was arrested at 4am on Thursday (November 29) after a fight with a fellow reveller at Club Avenue in Chelsea.
Sources told TMZ.com that Lohan was at Club Avenue when she got into some sort of argument with a female patron and it became physical. The police were called and arrested Lindsay for allegedly assaulting her.
She was taken to a nearby police station where she is getting booked for third degree misdemeanor assault, and according to TMZ.com, she's "visibly tired."
Earlier in the evening Lindsay, 26, had attended a Justin Bieber concert at nearby Madison Square Garden.
According to TMZ.com, the troubled actress is about to be charged with lying to the authorities about her car accident in California in June. She told the police she was a passenger in the Porsche when she was the one driving.
UPDATE: 29/11/2012 – 20:10
Santa Monica police have just confirmed that 26-year-old Lindsay Lohan will be charged in connection with a June crash on the Pacific Coast Highway.