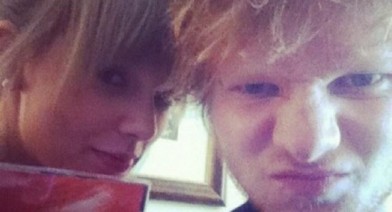 Taylor Swift claims Ed Sheeran is one of the most in-demand songwriters in the world and predicts he will be dominating US over the next year.
The 22-year-old beauty, told the Daily Star: "I think Ed is fast becoming the most in-demand songwriter in the world.
"It was a pleasure working with him. He has a real talent.
"Writing for One Direction has pretty much made him in demand from everybody.
"I know Justin Bieber loves his songs and I have heard Beyonce and Rihanna want him to write for them as well."
She added: "He's a talented performer, too, but in 20 years we could be looking back at him as one of the all-time great songwriters."
You can't get as bigger endorsment than from the girl that won her fifth consecutive award for favourite country female artist at the AMAs.
Swift recently confirmed that she will release 'I Knew You Were Trouble' as the second single from her latest album 'Red'.
Listen to Taylor Swift's 'I Knew You Were Trouble' below: