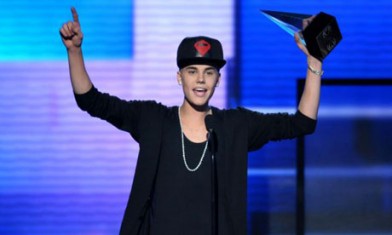 Justin Bieber swept the American Music Awards, beating strong competition from Rihanna and Nicki Minaj, and sending British boybands One Direction and The Wanted home empty-handed.
Bieber, 18, won all three categories in which he was nominated, including the night's biggest award, artist of the year, over Rihanna, Katy Perry, Maroon 5 and Drake.
The Canadian pop star said: "I want to say this is for all the haters who thought I was just here for one or two years. I feel like I'm going to be here for a very long time,"
He also won favourite pop/rock album for 'Believe'. He gave an acoustic performance of As 'Long As You Love Me' and also the up-beat 'Beauty and a Beat', where Nicki Minaj joined him on stage.
Minaj repeated her AMAs wins from last year, picking up trophies for favourite rap/hip-hop artists and album for Pink Friday: Roman Reloaded. She performed her new song Freedom.
Luke Bryan also won the best country music singer award, ensuring that I reserved some Luke Bryan tour tickets since I love me some good country.
Swift won her fifth consecutive award for favourite country female artist. "This is unreal. I want to thank the fans. You guys are the ones who voted on this," she said.
Swift performed of the 'I Knew You Were Trouble'.
FULL LIST OF WINNERS:
Artist of the year: Justin Bieber
New artist of the year: Carly Rae Jepsen
Pop/rock female artist: Katy Perry
Pop/rock male artist: Justin Bieber
Pop/rock band, duo or group: Maroon 5
Pop/rock album: Justin Bieber, Believe
Country female artist: Taylor Swift
Country male artist: Luke Bryan
Country band, duo or group: Lady Antebellum
Country album: Carrie Underwood, Blown Away
Rap/hip-hop artist: Nicki Minaj
Rap/hip-hop album: Nicki Minaj, Pink Friday: Roman Reloaded
Soul/R&B female artist: Beyonce
Soul/R&B male artist: Usher
Soul/R&B album: Rihanna, Talk That Talk
Alternative rock artist: Linkin Park
Adult contemporary artist: Adele
Latin artist: Shakira
Contemporary inspirational artist: tobyMac
Electronic dance music artist: David Guetta