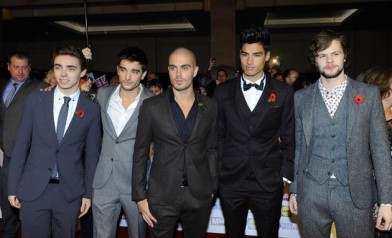 In recent months, the feud between the two boy bands has been at an all time high with both camps being questioned on their thoughts about the rival boy band. In a recent interview, the lads of The Wanted expressed that they are willing to have a heart-to-heart with One Direction in order to put this all in the past.
When asked by OMG! UK about what might have started this feud, Jay McGuiness said, "I don't really know. [what's going on] Louis is a little bit stressed about something, but we're not sure what because he didn't say."
"When it all first started we made a few little digs, and then it kind of stopped," added fellow band member Nathan Sykes.
Max George, however, spoke up on behalf of The Wanted and claimed that the comments made in the past weren't intended to be digs at the X Factor contestants. "I don't think they were digs. I think it's just what we thought they were. They were offended that we looked at them as a young teeny-bopper band – I think they got offended by that for some reason. We did say afterwards if they did [take offence] we apologise for that, but I still think it's a bit of a sore point for young Louis."
Jay went on to elaborate and said that there are no hard feelings in The Wanted camp. "There's no beef on our end. We're going to see them soon in New York so I'm sure we can bury the dead dogs. I'm just making that phrase up. But I definitely want to talk to Louis. Let's do it. We'll kiss and make up, definitely. With tongues."
Seems like The Wanted have extended an open invitation to work this all out in a civil manner. Your move One Direction.