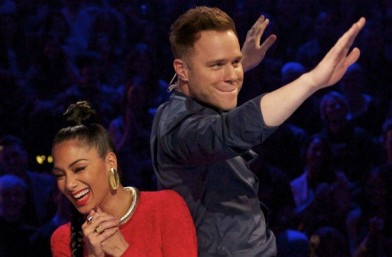 Olly Murs has said he fancies Nicole Scherzinger, but insists he wouldn't go further than flirty banter.
Speaking to the X Factor website, Olly said: "Nicole and I enjoy a bit of friendly flirting during the show. She's one of the hottest girls on the show.
"You'd have to be gay not to fancy Nicole! Things won't go any further than my crush – she has a boyfriend and it's just a bit of banter for the show."
When asked what he thought of Nicole's catsuit. The Essex heart-throb said he was distracted: "I think all four Judges look amazing this series. Tulisa and Nicole dress so differently but both always look very glamorous.
"Nicole's catsuit was VERY distracting. Goodness knows how her Boys managed to concentrate that night!"
Meanwhile, Olly insisted that all four judges were friends after the fag-gate incident.
He said: "We covered the Tulisa/Gary spat on The Xtra Factor. Gary apologised to Tulisa on our show and you could see he really meant it. I don't think he meant to say what he did and you could see he was genuinely sorry. Gary's a great guy. Everything seems cool with the Judges now!"
The X Factor 2012 continues this Saturday night on ITV1.