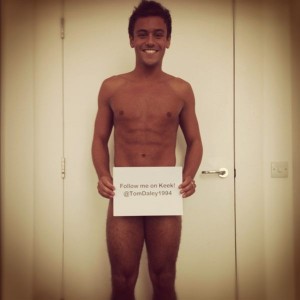 Top Daley took to posing naked on Twitter to plug his Keek account to his nearly two million followers.
This evening (Sunday 28, October), the Olympian hunk posted: "Cheeky pic ;) everyone follow me on keek! You will love it :D http://www.keek.com/TomDaley1994"

We know the cheeky chappy likes a good laugh and we don't mind one bit.
Last night Tom was out and about getting in the Halloween spirit with his buddy, One Direction heart-throb Liam Payne. The 19-year-old partied the night away at the Funky Buddha with  Tom, who went as Penguin (and a skeleton underneath).