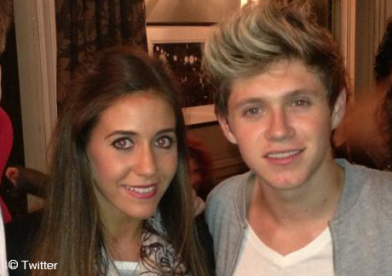 Sorry, fans! Niall might be keeping mum, but we think Amy Green is one lucky gal pal.
The 'friends' have been seeing a lot of each other lately – and were even spotted together last night visiting Niall's bestie Darren Flynn. We're no experts but all signs point in one direction.
It was confirmed by Darren via Twitter saying: "Chilling in my new gaf with @NiallOfficial and @AmyGreen92 haha nial your a boss! house warming soon i think".
Amy and Niall were first linked earlier last month when the duo met during the filming of the boy band's tour screens video-shoot. They have since forged a very close friendship.
On October 16, Niall tweeted that Amy's was his favourite laugh. In response to: 'Who's (sic) laugh is the funniest you've ever heard?', the 1D hunk tweeted: "My friend @AmyGreen92"
One Direction performed at the Radio 1 Teen Awards on October 7, where the band scooped prizes across three categories. The star later admitted that he was in pain during the performance from an earlier leg injury, and that he would need crutches.
Niall and Amy were spotted together later that night at Cheryl Cole's gig and the 'friends' were later seen heading back to Niall's apartment after the concert, where Amy was helping Niall on his crutches.
More than friends? You be the judge.
>